NEWS
PROJECTS WEARE INVOLVED IN
---
MAGIC CITY
---
Together, with our creative collaborateur Sebastian Purfuerst from
lem-studios
, we created a 65.8 discrete channel soundscape, across 2000sqm exhibition space. We designed five scenographic chapters with an overall running time of 85min. Also we were responsible for the technical direction of the acoustical scenography.
The music for this exhibition has been composed by LORNE BALFE.
Produced by LORNE BALFE and HANS ZIMMER.
Soundscape designed by SEBASTIAN PURFUERST and HENDRIK NEUMERKEL.
MAGIC CITY DRESDEN / MUNICH / STOCKHOLM
The Brooklyn Street Art blog about the sound of the MAGIC CITY exhibition: "...Of particular note is the sound design throughout the exhibition by Sebastian Purfuerst and Hendrik Neumerkel of LEM Studios that frequently evokes an experiential atmosphere of incidental city sounds like sirens, rumbling trains, snatches of conversations and musical interludes. Played at varying volumes, locations, and textures throughout the exhibition, the evocative city soundscape all adds to a feeling of unexpected possibilities and an increased probability for new discovery."
www.brooklynstreetart.com
---
DANTE certification
---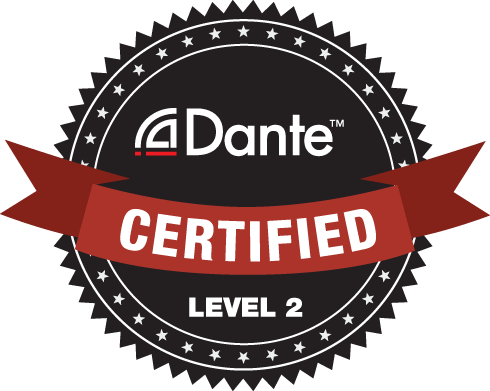 Now we are all level DANTE certificated
---
KLANG:quelle
---
For upcomming productions, we invested in KLANG:quelle
---
FOCUSRITE REDNET
---
For upcomming productions, we invested in REDNET 2, 3, 4 and 6.
---
IMMERSIVE MULTICHANNEL AUDIO PROCESSING
---
We are proud to announce, in association with LEM-studios:


IMAP
IMAP (immersive multichannel audio processing) is a freely configurable, three-dimensional audio space for exhibitions, showrooms and live events.
IMAP offers the maximum in artistic freedom for soundtracks, sonic enviroments and sound installations to bring a space to life.
INTRODUCTION
Todays productions increasingly require special solutions for creating customized three-dimensional sound fields; a fresh, affordable approach with exciting possibilities that offer creative and financial independence from standardized norms.
IMAP enables us to create three-dimensional sound fields with up to 64 freely positionable speakers in any public space. The multichannel audio stream is always mixed on-site to get the most out of the characteristics of the space.
Three-dimensional positioning of sonic events, time alignments, speaker correction curves and balancing the mix in real-time combine to give the sonic sphere the final touch,maximizing the atmosphere and intensity of your exhibition or showroom.
THE IMAP PHILOSPHY AND WORKFLOW
The important milestones for every production need careful planning and realization. Our productions are usually split into four main phases:
#01 Conceptual Work, Technical Planning/CAD and Budget Management
#02 Multichannel Field Recording and Studio Recording Sessions
#03 Multichannel Productions
#04 Audio Setup Installation and Technical Supervision On-Site
#05 Acoustic Measurement and On-Site Mixdown
This module-based workflow puts our support exactly where you need it. Whether you have a full production or you need an on-site mix at a location with pre-produced material, we are there to bring your sonic environment to life.
"WE SEE OURSELVES AS SONIC ARCHITECTS OF EMOTIONS."
Every production needs careful planning and adjustments to make it fit your needs. We work together with our clients to develop specially customized acoustic concepts for a breathtaking emotional experience covering all the dramaturgic and musical ideas, sound design and the necessary technical requirements.
This all starts with the free flow of ideas, initial audio sketches, test installations, technical solution recommendations and pre-productions. The work continues then through to a detailed sound concept and a working, reliable customized audio setup including CAD plans and an easy-to-use playback system.
Of course we also look after the budget, providing you with the information you need on where to get the right gear for the right price.
"NOTHING S BIGGER THAN REAL LIFE."
We love working in the studio, but it takes the right ingredients to create something truly stunning. So we don't rely on samples and pre-produced material. Instead, we go out and record the sonic magic where it happens.
We capture it for you at the source, from the sound of a London tube to Indian singing in a temple in Karnataka to a 30-channel surround recording during a European football match at Cologne s Rhine-Main-Stadium.
We can also offer you the kind of high-end surround recording session featuring a choir or various classical instruments that we did for THE URBAN PLANET production at Expo Shanghai 2010.
"WE NEVER SEE THE SAME THING WHEN WE ALSO HEAR; WE DON'T HEAR THE SAME THING WE SEE AS WELL." (MICHEL CHION)
We and our artistic collaborators and partners are experienced musicians and producers covering a wide range of musical styles and directions. We are passionate about making your sonic vision come true, from intimate and touching musical performances to epic blockbuster soundtracks, or from gritty indie analogue sounds to contemporary experimental electronica.
Our productions are always a fine blend of musical composition and sound design. As experienced professional audiovisual designers we are always meticulous about supporting the action on-screen with audio that opens up new dimensions.
"LOCK AND LOAD"
The proper setup of the equipment on location is the essential step to making it all work. We can supervise the audio setup installation and assist the technicians as needed.
"WE TURN YOUR LOCATION INTO OUR STUDIO."
We carefully evaluate the characteristics of the particular sonic space. The studio is a laboratory where the surgical work is done, but the big picture comes together in the public space with its distinctive properties. This is where the magic is supposed to happen.
We add the final polish with our mobile studio, coming to your location to make everything sound the way it should.
But first things first: Before all the gear is installed and the sound takes wings, we conduct precise acoustic measurements of the space to understand its characteristics and acoustic behaviour. This is a crucial starting point for every successful on-site mix.

REFERENCE PROJECTS
HANERGY (BEIJING, CH)
TRIAD, BERLIN 2014

AUDIO SETUP AND ON-SITE-MIX 64 CHANNEL MIXDOWN IN COOPERATION WITH FRAUNHOFER INSTITUT, BERLIN

MUSICAL COMPOSITION I SEBASTIAN PURFUERST

SOUND DESIGN I SEBASTIAN PURFUERST I HENDRIK NEUMERKEL

MULTICHANNEL FIELDRECORDING I HENDRIK NEUMERKEL


FIFA WORDL FOOTBALL MUSEUM
TRIAD, BERLIN 2014

AUDIO SETUP AND ON-SITE-MIX 64 CHANNEL MIXDOWN IN COOPERATION WITH FRAUNHOFER INSTITUT, BERLIN
30-CHANNELS-SURROUND-RECORDING STADIUM COLOGNE WORLD CHAMPIONSHIP GERMANY VS. IRELAND

MUSICAL COMPOSITION I SEBASTIAN PURFUERST

SURROUND ATMOS & SOUND DESIGN I SEBASTIAN PURFUERST I HENDRIK NEUMERKEL

MULTICHANNEL FIELDRECORDING I HENDRIK NEUMERKEL


WORLD EXPO SHANGHAI
TRIAD, BERLIN 2010

AUDIO SETUP AND ON-SITE-MIX
SHOW "THE BLUE PLANET" 10.1 CHANNEL SURROUND EXHIBITION SPACE
SHOW "UNDER ONE ROOF" 12.1 CHANNEL SURROUND FULLDOME

COMPOSITION & SOUND DESIGN
SEBASTIAN PURFUERST I CHRISTIAN STEYER I TOBIAS PURFUERST

TECHNICAL AUDIO CONCEPT AND SUPERVISION I HENDRIK NEUMERKEL

EVENT TRAILER
DEUTSCHE LUFT-UND RAUMFAHRT
BITMAP BOOGIE & LEM-STUDIOS 2012

COMPOSITION & SOUND DESIGN I SEBASTIAN PURFUERST

AUDIOVISUAL LIVE EVENT
REMOTE REPUBLIC - LIVE AT BAUHAUS
LEM-STUDIOS, BERLIN 2012

AUDIOVISUAL CONCEPT & DESIGN I SEBASTIAN PURFUERST

TECHNICAL AUDIO CONCEPT AND SUPERVISION I HENDRIK NEUMERKEL

SIEMENS - ROAD SHOW
TRIAD, BERLIN 2012

AUDIO SETUP AND ON-SITE-MIX
5.1 CHANNEL SURROUND ON MOBILE TRUCK UNIT

AUDIOVISUAL CONCEPT & DESIGN I SEBASTIAN PURFUERST

TECHNICAL AUDIO CONCEPT AND SUPERVISION I HENDRIK NEUMERKEL


---
Farbfest BAUHAUS DESSAU
---
Remote Republic feat. Bella Berlin & Pilocka Krach
art director audiovisual live performance
Sebastian Purfuerst
production / technical direction / stage design / set design / FOH / recording
Hendrik Neumerkel
light design
Martin Mueller

media server / LED wall and screens
Andy Heidmann

tech crew:
Carlos Philip
Harald Stojanovic
Jens Kunth
Jan Seemueller

camera operator:
Karim Mansour
Marc Doemer
Christiane Egert
Christian Moeller

support:
CT Creative Technologie GmbH & Co.KG
GEMCO Veranstaltungsmedien GmbH
inventive audio engeneering
Light and Sound Consult GmbH
LEM-studios
MMLD
Watchmen Production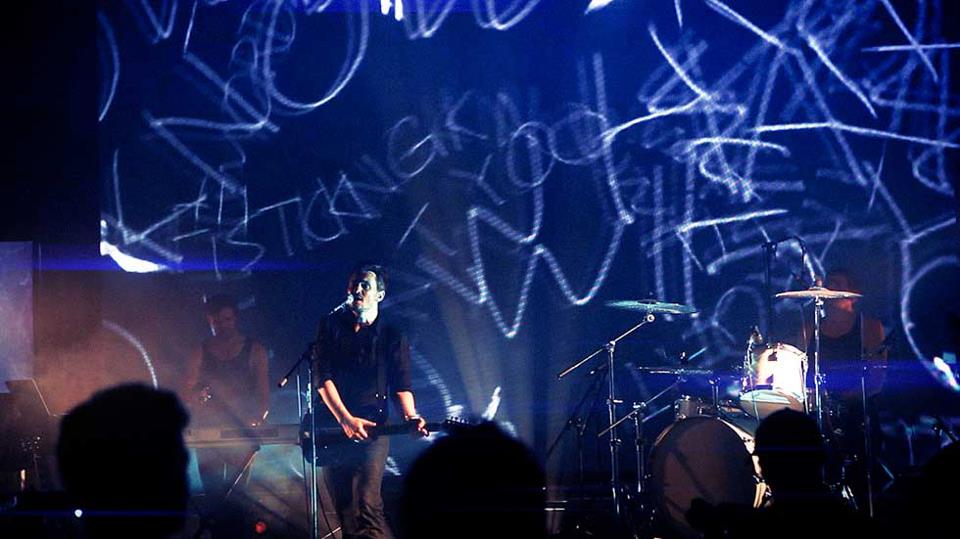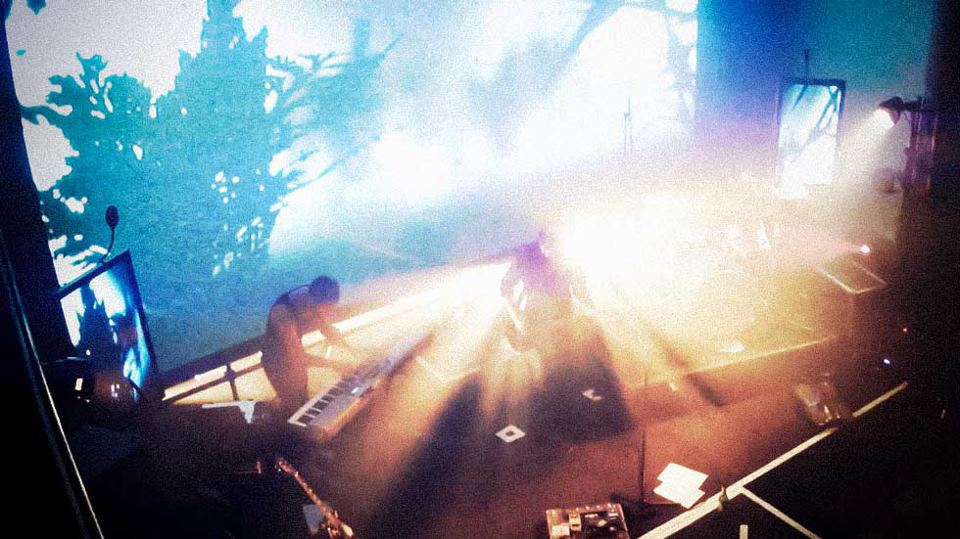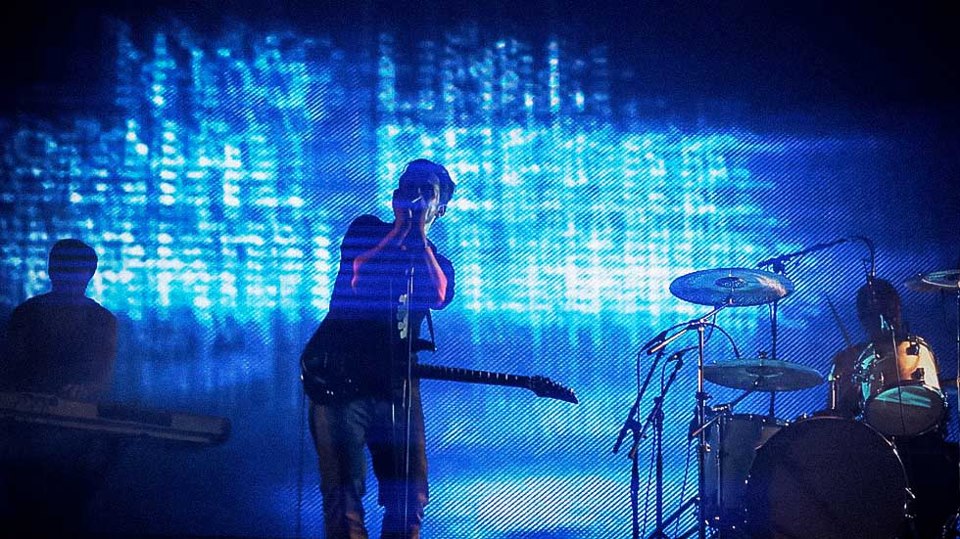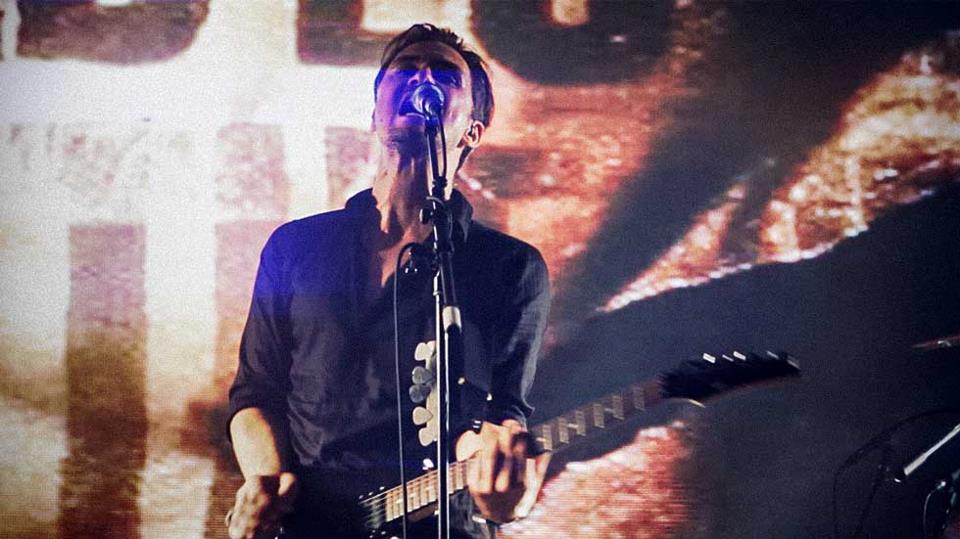 ---
180° MULTI-CHANNEL SOUND PRODUCTION FOR SIEMENS ENERGY EFFINCIENCY ROAD SHOW
---
In many industrial plants there's tremendous potential for increasing energy efficiency. Higher energy efficiency saves money and helps protect the environment I two benefits you can profit from with Siemens. With our Energy Efficiency Roadshow, we want to show you how you can achieve higher efficiency day by day. Our truck is heading your way I so you can discover firsthand the hidden potential in machines and processes, no matter how typical they are. Step into our Energy Efficiency truck and get on board with greater efficiency.
(from the offical
Siemens
Website)
On behalf of TRIAD Berlin we produced a 180° degree multi-channel soundtrack for the SIEMENS Energy Efficiency Roadshow. We set up the sound in the truck and gave it a final touch in an on site mixing session.
Lead Agency / Production Company:
TRIAD
, Berlin
Project Management:
Daniel Strauss (
TRIAD
)
Client:
SIEMENS
Creative Direction Sound:
Sebastian Purfuerst
LEM-STUDIOS
Team Sound Production:
Sebastian Purfuerst
Hendrik Neumerkel
Tobias Purfuerst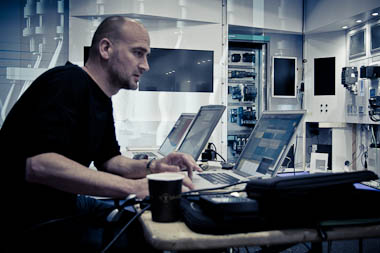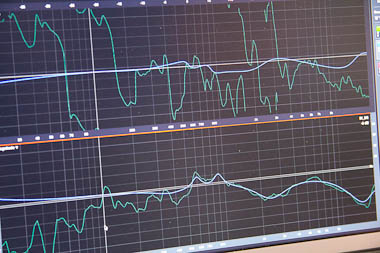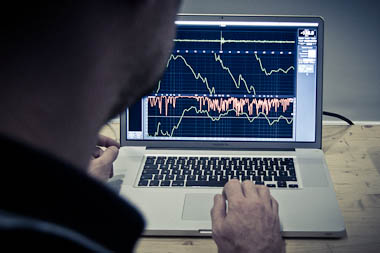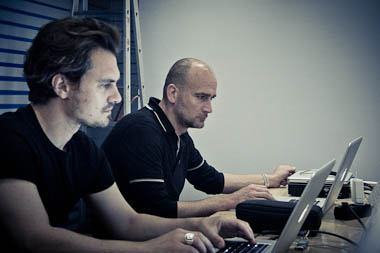 ---
REMOTE REPUBLIC
---
REMOTE REPUBLIC:
INNER VOICE BROADCAST
(CD + DVD, 2012)
All Songs written, performed, & produced by Remote Republic.
Remote Republic are
Sebastian Purfuerst | Hendrik Neumerkel | Tobias Purfuerst | Jeff Collier
Recorded and mixed at
lem-studios
,
lavelle313
&
Hansa Tonstudios
.
"Hush" mixed & co-produced by Alex Wende Executive Producer: Rene Rennefeld Published by Eyeland Music (C) 2012 Remote Republic
Guest Vocals on #06 & #08 by Kristiina Tuomi.
All Visuals by Sebastian Purfuerst in Collaboration with Kathy & Sara Kwon, Elisa Purfuerst, Tino Meinert.
Images in "Glucose" used by kind permission of Leeds Library and Information Services (leodis.net) | Additional Footage: Prelinger Archive, Armin Ketter & Alex Koshka Stein
---
WORLD EXPO SHANGHAI 2010
---
World Expo Shanghai 2010: The Urban Planet Pavillion by
TRIAD
, Berlin
The project was developed by an international, interdisciplinary team put together by
Triad
Berlin. Architects, designers, media designers, scientists and engineers as well as lighting and sound experts were involved in the work - in close coordination with Triad's Shanghai office. The themed pavilion was constructed in cooperation with Shanghai Foremost Multimedia Co. Ltd.
Complete Project Team Credits
Lead Agency
TRIAD
, Berlin
Production Team Sound
LEM-STUDIOS
:
Sebastian Purfuerst
Christian Steyer
Tobias Purfuerst
Hendrik Neumerkel
Media Installation "Blue Planet"
Having reached the highest point of the "Road of Crisis," from 12 meters above the ground, visitors will have a unique view of our planet and the pavilion's main media installation: "Blue Planet."
The visitors experience five spectacular metamorphoses of the hemisphere, which go along with a visible dynamic of change and adaptation. The Earth is now telling its own story.
Media Installation "Under One Roof
Reaching the exciting conclusion of the "Road of Solutions," visitors will find their way into the heart of the "Blue Planet" and experience the history of civilization in a fascinating 360 degree panorama show.
The final message "We only have one world" reiterates the crucial point: we urgently need to act – both as a global community and as individuals. Our future lies in the hands of each and every one of us.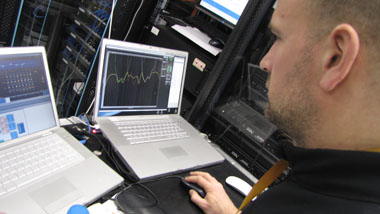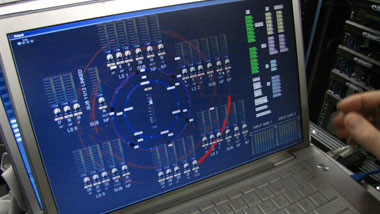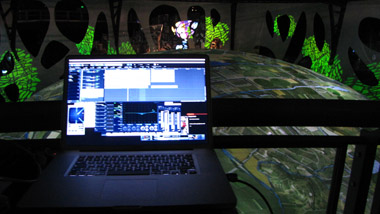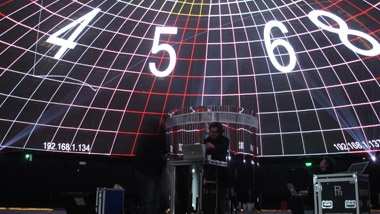 ---
PRODUCT LAUNCH IN GREECE
---
Lavelle 313 was in charge for conception, planning, evaluation and realizing of all technical issues for this event and it started
with our 360° idea. But this was a part only, of a 5 day event with different workshops and evening events each day.